This past summer the Alaska Department of Fish and Game required all charter fishing vessels in Southeast Alaska to carry a rockfish release mechanism on board at all times. Since I own such a vessel in Craig, Alaska it was apparent I was going to have to change how we do things on the bottomfish grounds. No problemo!
If you're not familiar with what happens to a rockfish when it comes up from depth they usually suffer from barotrauma, also known as "The Bends". If they aren't descended rapidly the chances of a rockfish making it back to the bottom are slim to none.
In several conversations I had with Puget Sound Anglers president Ron Garner last winter he continued to mention the Shelton Fish Descender as a viable option to meet the new standard. They were relatively inexpensive and after checking the SFD's out online I quickly figured out a way to customize them to make them easier to use.
The online instructions looked simple enough, but I immediately recognized how tangled up the whole mess could get in heavy seas with braided bottomfish lines sweeping under the boat. And, I wouldn't have much time to get a rockfish hooked up and hauling ass back down to depth before I was off to tend to another rod on deck. On most days there's little time for tinkering.
This is what I came up with. A 2 pound pipe jig with the SFD descender poured directly into the top of the jig. When Dad was building my pipe jigs last spring I had him pour me a jig with the Shelton Fish Descender poured into the jig.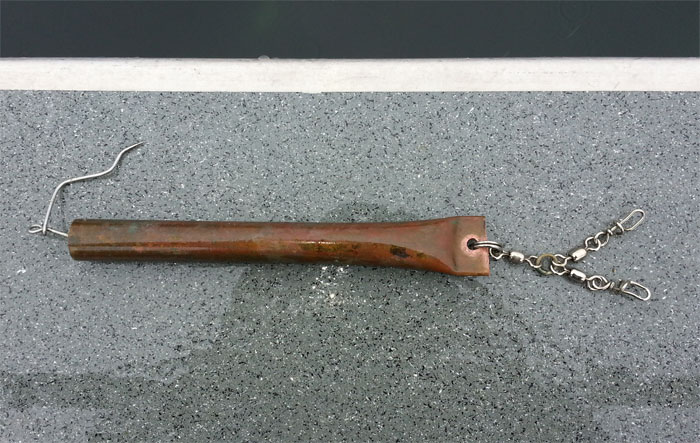 Since two pounds is only sufficient to sink your average-sized rockfish I added a split ring and a three way spiral swivel to the bottom of the jig so that I could add more weight as needed. The weights that I added to the pipe jig were 2 pound square leads that don't roll around the side trays when the boat is underway.
Smaller sized yelloweye rockfish, for instance, would usually take around 4 pounds of weight to get them to descend. Larger yelloweye in the 12 to 15 pound range would descend with two additional two pound leads spun onto the swivels making the jig a total of 6 pounds.
In speaking with Garner he told me that yelloweye rockfish larger than that would take 8 pounds or more to get them down. I had small lanyards rigged up just in case I needed more than 6 pounds of total weight, but I never needed them.
Overall the performance of this device was quite sufficient after I got the hang of using it. The key was to hook up the rockfish and send it downward and keep it going in one continuous motion, otherwise the fish would slide off the needle and I would have to retrieve the fish and start over. Having the bail open and ready to roll was crucial to making this work.
After some practice I could rapidly get a rockfish onto the needle and back down to depth in short order. I had a spare halibut rod on board with a large Penn 345 reel attached to it that could handle the heavy weight of this device.
Unless I find a better device for the summer of 2014 I plan on pouring more SFD's into pipes that weigh 2, 4, and 6 pounds that can quickly be deployed onboard the "Polar Bear". A small rack of these pipe jig descenders would greatly simplify this task.
If you've done some tweeking to your own rockfish descenders to make them more effective I'm all ears. Feel free to share your thoughts with us on the Outdoor Line forums. There's a great learning environment on the OL forums and the only ones that get lit up are…well…us!
Rob Endsley
The Outdoor Line
710 ESPN Seattle