30 degrees to "Trout Success"
Team Pautzke hit the road yet once again for another opportunity to get out and fish. This time we would meet up with some sales Reps from a local distributor on the East Coast.
Destination; the rolling mountains of West Virginia. This road trip took us through a number of small towns ie; Durin, Brandywine, Elkins, Franklin etc. Most of these towns are not even found on several maps.
You cannot travel to W. Virginia and not inquire about moonshine, at least I couldn't. "How easy is it to find authentic moonshine in West Virginia?" The first guy we had a conversation with at the Fat Boys Pork Palace diner, about Mountaineer Football, was jokingly asked about moonshine. We actually had it in our hands in less than 15 minutes.
It was a simple question, "you fella's know where a guy might be able to find some authentic moonshine?" "It just may be closer than you boys think", was the reply from the gentleman sitting in the stained T-shirt, two sizes too small.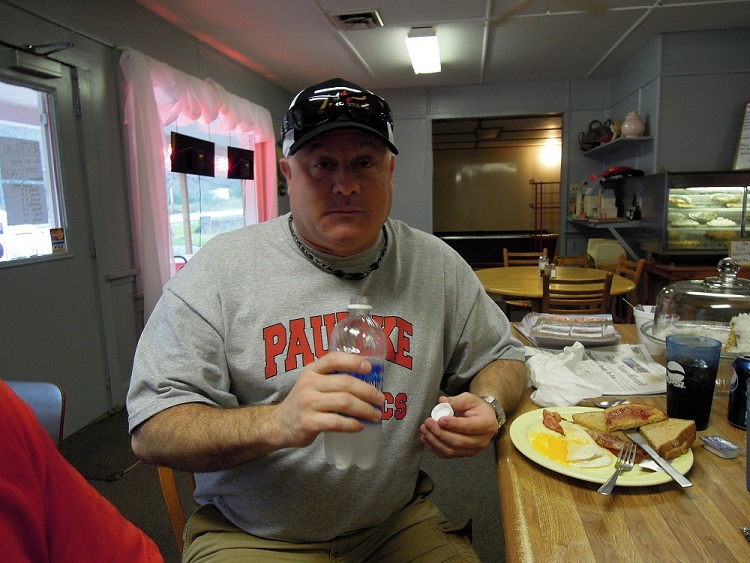 This is actually a photo of John Albrich, taking just a sip of the 110 proof moonshine. His tongue was numb for at least 2 hrs. Who knew that stuff was soooo, strong
Our first morning out on the local stream was a bit of a challenge. Very similar to most of your trout fishing across the nation, these trout streams are occasionally stocked with Rainbows, Browns, Brook Trout and even a periodic Golden Trout. Most of the streams in W. Virginia receive a good amount of pressure. Trout fishing is a big deal there and a lot of folks do it.
The weather was beautiful as was the country. The temperatures continued to climb and by midday was easily 75 degrees and climbing. We did manage a couple of nice Rainbows in the morning, but as the day wore on, so did the fishing.

We took a break for some lunch and didn't even hesitate. The 20 minute drive back to the Fat Boys Pork Palace was a no-brainer.

After lunch we decided to go find a couple more streams to spend our afternoon to evening on. It was now 91 degrees and the fishing was not getting any better. The lack of snow this past winter in this part of the country has basically put this entire area in early drought like conditions. The streams are extremely low and clear and some of them have already gone completely dry. This is basically late summer conditions in mid-April.
The trout fishing was difficult due to the conditions. Very low, very clear and extremely warm and these trout were easily spooked. To do it right you should be dressed in cameo. Your presentation needs to be extremely small. Most of the time, even a single Pautzke egg presented under a float, would force the fish to move from its comfort area. You could see decent numbers of fish in most of the holes. Many of these fish average one to two pounds. These fish had also seen a good amount of pressure the past couple days. With so many factors stacked against us, it was no surprise the trout were not such willing participants.
Day two started out completely different from the moment we hit the outside air at the hotel. You could feel the chill in the air. The chill was a welcomed pleasure. We had, according to our Team Pautzke W. Virginia fishing partners, a half hour drive to the first stop of the day. An hour and forty five minutes later we finally arrived at our destination. W. Virginia time and West Coast time are completely different in more ways than one. Time didn't matter, what I was looking at when we climb out of the car had me excited about trout fishing. It was forty degrees, partially cloudy skies and water falls with deep pools. Much, deeper and much bigger water then what we had fished the day before.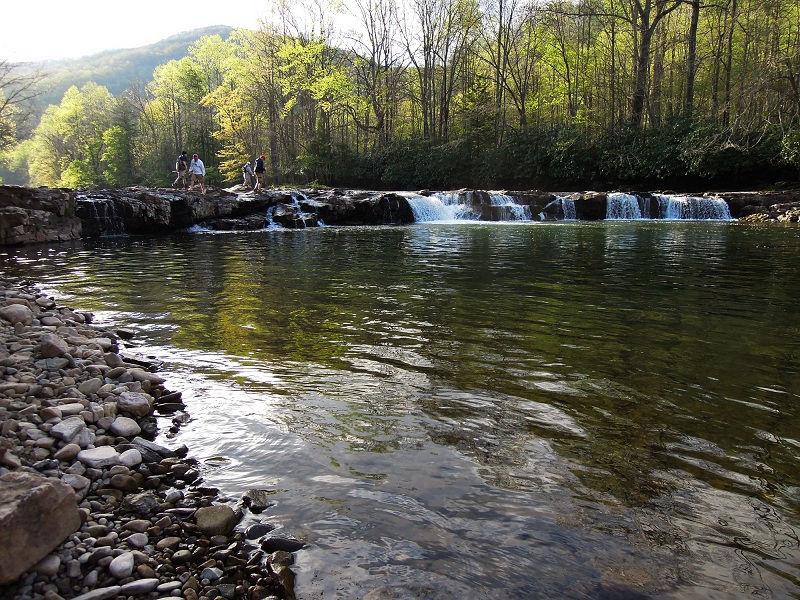 It didn't take long for Robert, our W. Virginian local, to hook up. Then Robert hooked another, then another and you get the picture. Robert and Shane had waders on and us Out-O'-Town boys did not. They were on the other side of the pool and had a nice little riffle drift along the gravel bar coming off of the deep pool from the falls. Albrich and I were on the other side at the top of the falls. No matter what depth we set our floats, or bounced bottom, type of bait, or location in the pool, nothing worked. Casting to catch the edge of that nice little seam on the other side still was never just quite right.

Finally, after about an hour, Chris Shaffer said, "I don't care what you have to do, you guys need to get over there and fish with our guys". We looked around and the best option we had was to jump a swift moving narrow gap in the large rock formation. No big deal, we make it we are into the fish baby. If we slip and fall we are in the drink. We would be swept over the slick rock formations, ultimately landing in the deep pools below the 10' to 12' falls. What could possibly go wrong?

Both Albrich and I were successful in jumping the gap. I'm not saying it was athletic and smooth for both of us, but we both made it. After I picked John up off the ground and we managed to stop the bleeding on his knee, we hiked the trail to get over on the gravel bar were our Team W. Virginia continued to have good success.

It didn't take long. Pautzke eggs any color, Can O Corn any color, and of course Fire Bait, all worked. The key was presentation and obviously location. The location was a factor as these trout were responding aggressively to your bait as it would move through the drift at natural current speed. We had already proven they didn't want to pursue a bait that lazily was presented suspended in the pool. The type of presentation was also a key factor. We did not hook a single fish with bait suspended on an egg hook under a float. However we had great success in utilizing a Trout Magnet mini jig head. When I say mini I am talking 1/64th oz. You simply would slide two to three Pautzke trout eggs or pieces of corn on the hook and fish it in a horizontal position, 6 ft. under the float. The presentation closely matched a common steelhead technique used at home, ie; the beaded jig. This was the beaded jig on a much smaller scale with the added scent of eggs or corn.
The Color of eggs or corn really didn't matter as they all worked. We did have the most success with Gold Label red eggs and dark red Can O Corn. The Fire Bait worked well also and again, it really didn't matter which color. All you had to do was mold a small amount, not a huge glob, around the hook. Fire Bait is a floating trout bait but the weight of the jig head would actually keep it down and offer it at the correct depth.
By midday it had warmed to a balmy 61 degrees, definitely a far cry from 91 on the previous day.
The keys to success on day two; 30 degrees, bigger deeper water, trout feeling protected and comfortable in their environment to be in a feeding mode.

West Virginia does offer some great trout fishing opportunity. As is the case in most river and stream fisheries, conditions will always play a role in how successful your day on the water may be.
Duane Inglin
The Outdoor Line
710 ESPN Seattle
www.theoutdoorline.com