The second edition of The Outdoor Line Billfish Bonanza in Los Suenos Resort in Costa Rica had some new faces in the same sunny, warm places and the sailfish were in a biting mood! Over the three days of the event, 42 sails were landed along with three marlin and several dorado!
We got into town a few day before the event to set things up and of course we had to go check out the fishing before the tournament… Right?

Larry Stauffer asks the Dragin' Fly's skipper James Smith about the latest fishing report as we prepare to get underway.

.
Leaving Los Suenos in our wake, the day looks flat calm and the forecast is for highs in the 90's. The forecast in Seattle that day? highs in the 40's and winds in the 30 knot range…



Choose your weapon: Thirty pound class stand-up gear, 6'6" medium-heavy boat rods sportin' bimini twist splices to the swivel, Leader are 100lb mono which is crimp-looped to 7/0 circle hooks.

.

Why the heavy leader? These critters come unglued when you hook 'em and after all, you're battling big game tackle busters!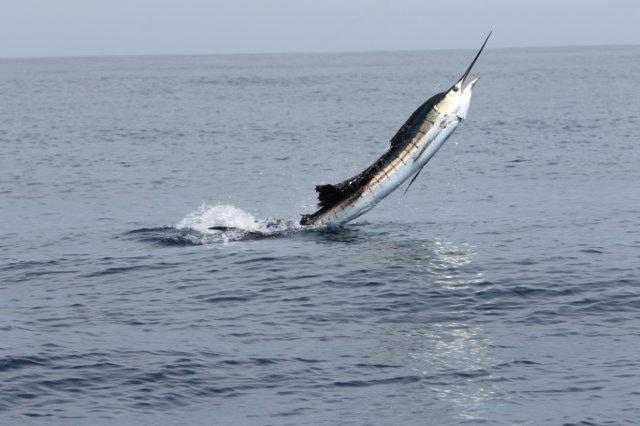 .
See the slack in the line as this sailfish tail-walks toward the boat? The challenge is reeling as fast as you can. It is simply amazing how fast these fish can move.
.

Acrobatics? No question. It's hard to find words to describe what a sailfish can do in the air.

.

Kathy Nelson can just about hide behind this dorsal fin! The colors and size of these fish is simply astounding!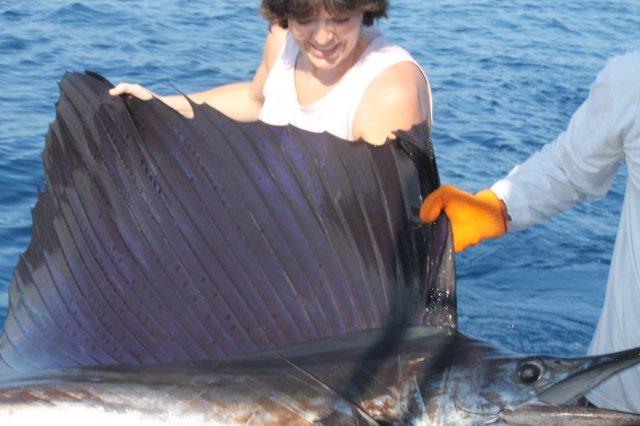 .
Once the fishin' was done, the table is set at El Pelicano, a beach-side restaurant for the Tournament banquet where all the prizes were awarded.



.


Topping their last-place-to-second-place finish last year, Team "Bite the Big One" took home the first place trophy and the Grand Prize Lowrance package for over $4000 in cash and prizes! Left to right: Team Captain Lee Andersen, Doug Stough, John Hjores, Rocky Arnt, Tourney Host Tom Nelson, Tim McGuire and Tourney Host Robbo Endsley.


Here's hoping that next year you can join us in Costa Rica and escape some of the gray, windy weather that March in the Pacific Northwest seems to be stuck on.
Currently, we're in the planning stages of The Outdoor Line Billfish Bonanza 2013 so come on down! The water is fine!
Tom Nelson
The Outdoor Line
710 ESPN Seattle